This article — originally published on PR Underground on Mar. 5, 2019 — describes the release of a revised set of K-12 National Standards for Quality Online Programs and Online Teaching, a joint collaboration between Quality Matters (QM) and the Virtual Learning Leadership Alliance (VLLA).
This article — originally published on Livingston's WHMI-FM 93-5 radio station on Feb. 18, 2019 — describes Michigan Virtual's partnership with the Pinckney Cyber Training Institute to bring their rigorous cybersecurity and networking training online for Michigan high school students.
This article — originally published in the Times Herald on Dec. 19, 2018 — describes the appointment of Deborah Snyder, President of St. Clair County Community College, to Michigan Virtual's board of directors and provides an account of her vast educational experience and accolades.
This article — originally published in the Cadillac News on Dec. 17, 2018 — describes Marion Public Schools' innovative approach to incorporating Michigan Virtual programs into their curriculum to address ongoing issues in their district.
LANSING – The Michigan Department of Education (MDE), along with several partners including Michigan Virtual and Message Makers, recently received an international award for a video designed to help Michigan educators deliver pre-kindergarten and K-3 early literacy essentials. An… Read more
This news article — originally published by the Tri-County Times on Oct. 13, 2018 — describes the increasing number of people learning American Sign Language (ASL) and highlights the online ASL courses we offer to Michigan students.
Lansing, Mich. — Michigan Virtual™ announces a new partnership that will offer a program for school districts and students aimed at helping students' emotional and social learning in the online environment. Michigan Virtual has partnered with Evolution Labs to… Read more
Lansing, Mich. — Michigan Virtual has named Lori Coyle as the 2018 Online Teacher of the Year on Thursday, Aug. 2. Coyle has taught social studies for more than 10 years and has utilized online tools to connect with… Read more
There's a culture shift happening in Michigan schools. As part of the state's Top 10 in 10 initiative, many schools are exploring what it means to teach the "whole child" in education and how they can better facilitate their… Read more
This article was originally published by Phenomenal Science at: http://phenomscience.weebly.com/stemworks-announcement.html Phenomenal Science is pleased to announce that it has been awarded approval for entry into the STEMworks database as a promising program. As described on their website, "STEMworks is… Read more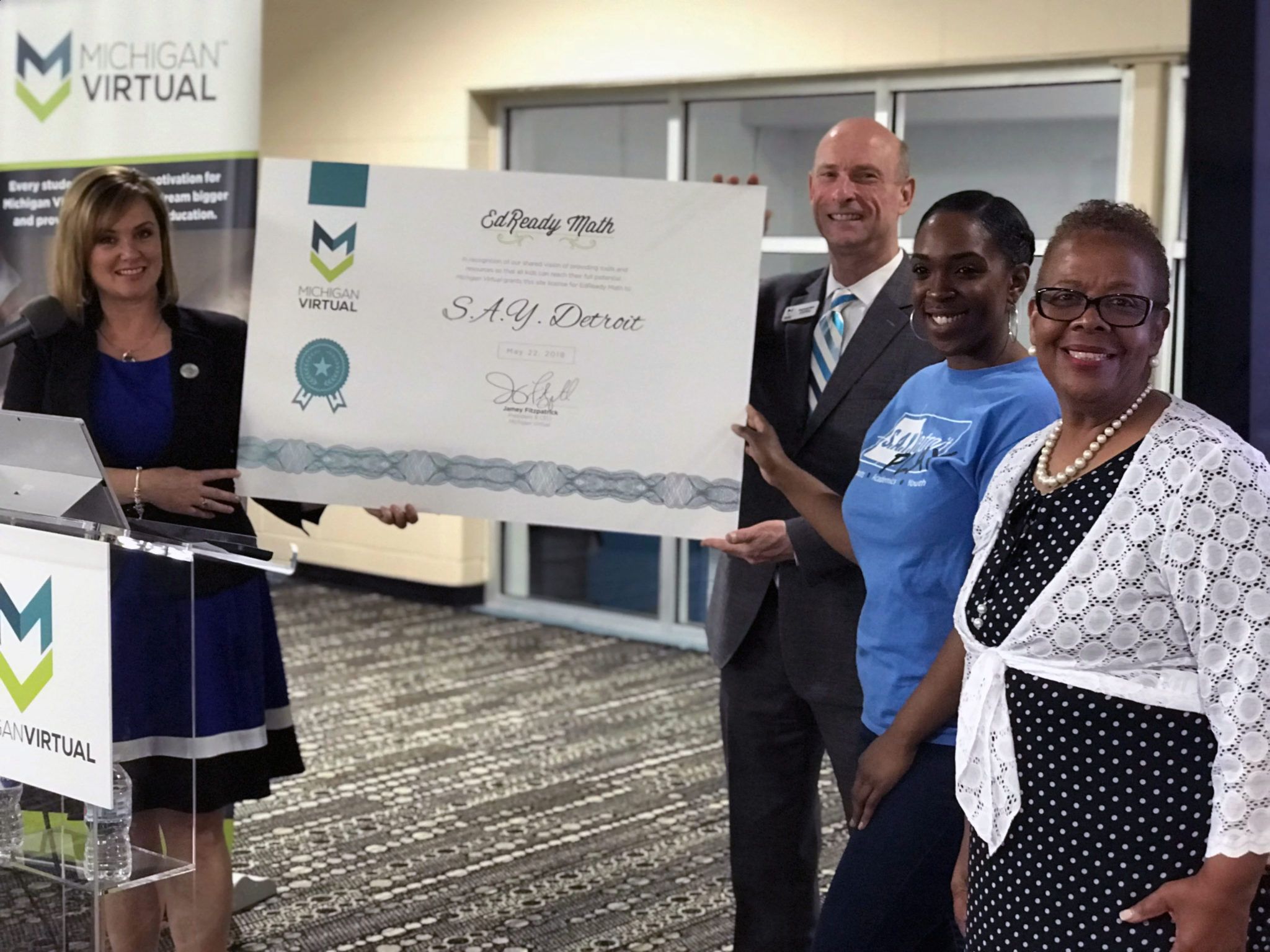 LANSING, MI — Michigan Virtual™ has partnered with the team from the Mitch Albom show to provide free early literacy and math readiness programs for students in Detroit on Tuesday at the S.A.Y. Detroit Play Recreation Center. Michigan Virtual provided… Read more
Lansing, Mich. — Michigan Virtual celebrated two decades as one of Michigan's top providers and thought leaders for online and blended student learning and professional development at a special awards luncheon honoring key supporters, including current and former lawmakers… Read more
LANSING, MI — On Tuesday, April 24, Michigan Virtual™ will be celebrating the release of the Michigan Virtual Student Learning Portal, which will replace CEMS as their primary enrollment system. The impetus for this change comes from consistent feedback from customers…. Read more
LANSING, MI — Michigan Virtual™'s Credit Recovery courses have been renamed "Essentials" and are now available for statewide enrollment. These 27 core classes are designed for students who either need to recover credits due to previously failing the equivalent… Read more
LANSING, MI — Michigan Virtual™ is excited to announce that it received a 2017 Quality Matters Making a Difference for Students Award for Outstanding Impact by a K-12 Organization at the QM annual conference "Connect Conference — Pathways to… Read more
Lansing — Michigan Virtual™'s research institute, with support from Education Development Center, is documenting an 18-month project underway in Rhode Island with a goal to more deeply understand the needs around high school redesign for the 21st century. Known… Read more
Michigan Virtual University®, a nonprofit organization that supports the growth and development of digital learning in Michigan's K-12 schools, has recently undergone a rebrand. Michigan Virtual University, along with the Michigan Virtual School®, will now be known as Michigan… Read more
Michigan Virtual partnered with Genesee Intermediate School District by joining its GenNET Online Learning portal. GenNET users can now choose from Michigan Virtual's online provider, Michigan Virtual for Students, when making online course decisions. The Michigan Virtual catalog of… Read more
High school students across St. Clair County will, this fall, have easier access to an expanded range of online classes offered through a cooperative effort among the county's seven public school districts, St. Clair County RESA and Michigan Virtual… Read more
This report shares the experiences of blended learning teachers in Michigan and is the result of
interviews conducted to understand their experiences and professional learning choices.