Farmington Hills resident, Kyle McGrath, chosen for award by The Henry Ford
This article was published in The Farmington Hills Patch on Aug. 21, 2019. You can read the article here.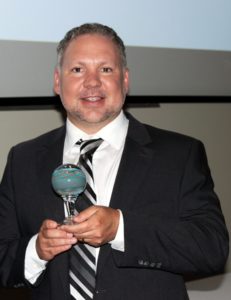 Lansing, Mich. — Michigan educator, Kyle McGrath of Farmington Hills, Mich., was recently named a 2019 Grand Prize winner of The Henry Ford's annual Teacher Innovator Awards. An educator with Michigan Virtual and a social studies teacher at Milford High School, McGrath joins nine other national educators as a Grand Prize winner and was chosen out of roughly 200 applicants nationwide.
"We couldn't be more proud to have Kyle teaching Michigan Virtual students – The Henry Ford made an excellent decision counting him among this year's Grand Prize winners," said Jamey Fitzpatrick, president and CEO of Michigan Virtual. "Michigan Virtual is a catalyst for innovation in education, and teachers like Kyle make our students so successful both in and out of the classroom."
The Henry Ford's Teacher Innovation Awards recognize educators who inspire students to be collaborative and empathetic, challenge them to take risks, and teach the value of staying curious and learning from failure. Teachers nationwide competed for this prize, and the Grand Prize winners receive an Innovation Immersion Experience at The Henry Ford, which includes a behind-the-scenes tour with curators of the museum and village and archives. To enter, teachers had to submit an essay, lesson plans and curriculum, and a video.
"Winning this award is a great recognition to what I do at Michigan Virtual and validates the innovative approach that we use in education," said McGrath. "While this award is a great honor, I know that there are a lot of other teachers at Michigan Virtual who are even more innovative than me. I've learned a lot from them and I'd like to thank Michigan Virtual for inspiring me to be innovative as a teacher over the years."
McGrath has been a teacher with Michigan Virtual since 2015. Prior to teaching, McGrath worked in both business and government. He graduated with a Bachelor of Arts in public policy from Michigan State University and a Master of Arts in teaching from Oakland University. McGrath is a published children's book author and the recipient of the 2014 Outstanding Teacher of American History Award from the Daughters of the American Revolution Piety Hill Chapter.