By nature, digital learning is constantly evolving. As time goes on, our technologies change and we gain a deeper understanding of how our students learn best in online environments. 
For online teachers, staying up to date on best practices can be tricky. There's so much information out there. How can you possibly validate and incorporate it all into your practice?
That's why experts from Quality Matters (QM) and the Virtual Learning Leadership Alliance (VLLA) came together to release a revised version of the National Standards for Quality Online Teaching, which previously had been last updated in 2011 by iNACOL.
These national standards were revised based on extensive literature reviews, community feedback via surveys, and the expertise of online learning experts around the globe.  Here at Michigan Virtual, we're honored to have had the opportunity to contribute to the latest edition of these standards.
They are truly a collaborative work that represents a consensus from the online learning community on what constitutes quality online teaching.
Here's a sneak peek at the table of contents for the revised National Standards for Quality Online Teaching:
As you can see, these standards are fairly exhaustive in their coverage, including everything from digital citizenship to assessment and measurement. They walk you through best practices for teaching in the online environment. 
Each standard is broken down to include both explanations and examples, which can help online teachers better understand how they might implement each suggestion into their virtual classroom. 
For example: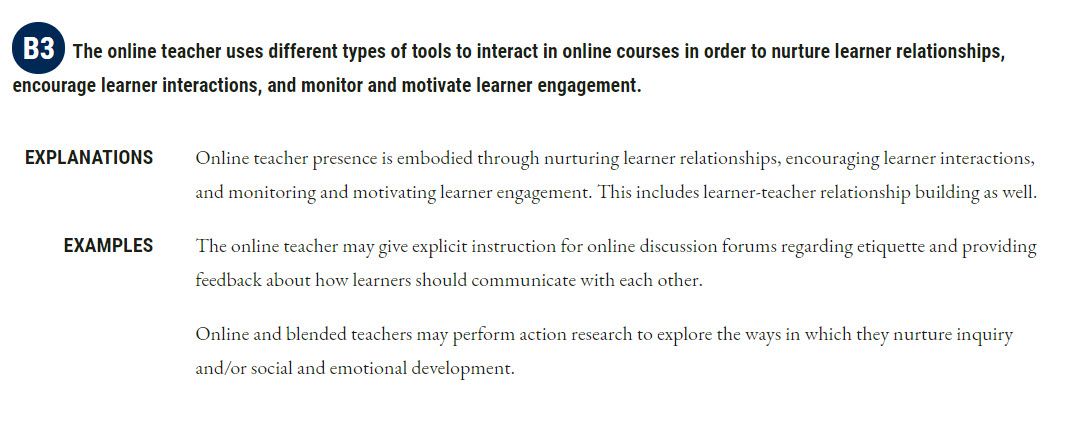 If you're an online teacher interested in improving your practice, we encourage you to explore these standards and pull out the tips and tricks that are most helpful for you!
For more context on how and why these standards were revised, check out the following videos created by Quality Matters and the Virtual Learning Leadership Alliance:
Short Version (6 minutes)
Deep Dive (27 minutes)