Why Mentoring Matters
As per Michigan state requirements, students taking online courses are provided with a school district employee who can support them throughout the process. These employees who support students in a myriad of ways are typically referred to as mentors. By forming strong relationships with students, mentors can help students make informed choices regarding their learning (e.g., course enrollments), motivate them to engage with course content, monitor their progress and performance, and encourage them throughout the term/semester.
The student support strategies used by mentors seem to have quantifiable benefits. Previous research has shown that having a mentor for an online course increases the pass rate for students (Roblyer et al., 2008 as cited in Lynch, 2019). Students also report that they get support from their mentors, in addition to, and sometimes above that of their instructors (Borup et al., 2018).
Highlighting Mentor Student Loads Across Locales
Because of the pivotal role mentors play in supporting students, it is important to understand the experiences of mentors in schools with varying locales (urban, suburban, town, rural). A better understanding of mentors' student loads can help provide insight into their workloads and resources that might benefit their efforts to support students.
The results discussed in this blog are part of a larger study conducted by the Michigan Virtual Learning Research Institute and are detailed in this report. Briefly, data about mentors' student load, communication with instructors, and building and districts' locale codes were collected from Michigan Virtual mentors in the Spring of 2023 via student learning interfaces and an end-of-the-year survey.
Across the state, mentors are busy supporting students! The number of students assigned to a mentor, often referred to as their 'student load,' varies significantly depending on the type of setting they work in. Mentors working in school buildings located in towns carry the heaviest student loads, as they are assigned around 17 students on average. Similarly, those in rural school buildings aren't far behind with an average student load of about 15. In contrast, mentors in city buildings have roughly half the number of students assigned to them, with an average load of only eight students. Zooming out to the district level, things follow a pretty similar trend; however, mentors in rural districts have slightly higher student loads compared to towns, but the difference was less than one student per mentor on average. The figure below shows mentors' student loads across varying building and district locales.
So, what's the main takeaway here? The number of students mentors work with can change depending on where they work. While mentors in towns, rural areas, and suburbs generally have similar student loads, those in cities usually work with fewer students.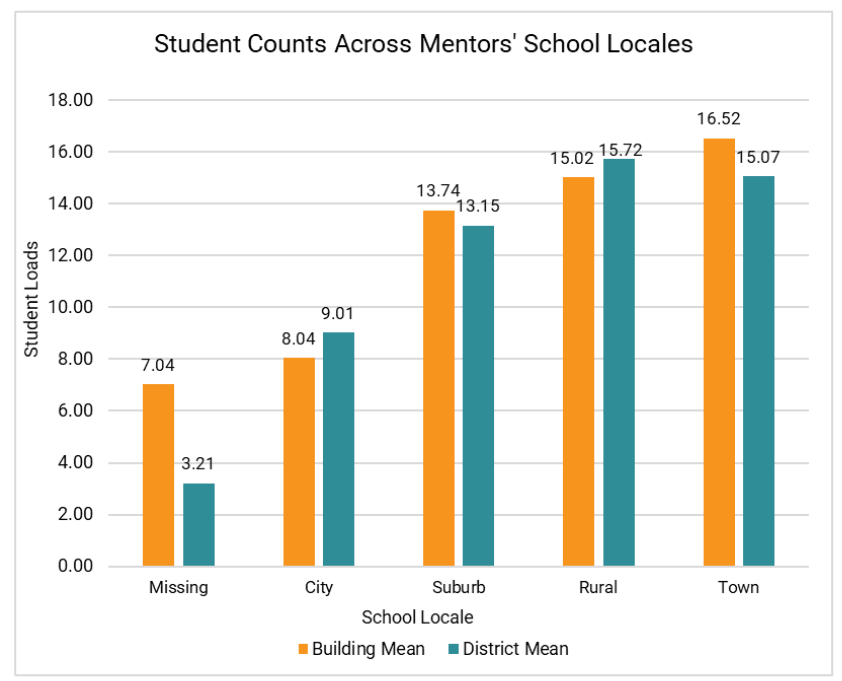 Figure 1. Student Counts by Mentors' School Locale
Considerations for Supporting & Uplifting Mentors
Mindful of Student Loads
It is crucial for school and district administrators to remain aware of the individual student loads carried by mentors, particularly as some students may require more support. In certain cases, students might even receive more assistance from their mentors compared to their instructors. This situation can arise because students have regular face-to-face interactions with their on-site mentors (Borup et al., 2018).
The strategies that mentors perceive as most effective for supporting students based on the survey data include building relationships, monitoring progress, and providing motivation. Ensuring that mentors have a manageable student load can help ensure that mentors have the time to implement these highly personalized and effective student support strategies.
Teamwork – Communication Between Mentors and Instructors
Mentors are part of a team whose main mission is to help students succeed in their online courses. According to Cuccolo & DeBruler (2023), mentors might not talk to instructors all the time but feel that conversations are effective when they do happen. So, when it makes sense, mentors and instructors can team up to support students in a variety of ways.
The study used survey data to learn about the experiences mentors had when communicating with teachers. The main challenge, according to 35.29% of mentors (n = 6), was getting a timely response. On a positive note, 28% of mentors (n = 7) indicated communications were generally good experiences. 24% of mentors (n = 6) pointed to quick responses as a positive aspect of communication, while another 24% (n = 6) highlighted how teachers helped them stay informed on student progress.
| | | |
| --- | --- | --- |
| Negative Experiences | N | % |
| Timeliness | 6 | 35.29 |
| Logistics | 5 | 29.41 |
| Availability | 2 | 11.76 |
| Teamwork | 2 | 11.76 |
| N/A | 2 | 11.76 |
| Positive Experiences | | |
| Good Communication | 7 | 28.00 |
| Timely Communication | 6 | 24.00 |
| Updates | 6 | 24.00 |
| Proactive | 4 | 16.00 |
| Encouragement | 2 | 8.00 |
Table 1. Communication Experiences
The emphasis on the timeliness of responses points to the pivotal role of efficient and effective communication in ensuring students receive prompt support when needed. Timely communication facilitates the identification of struggling students, allowing for immediate intervention to help them meet course expectations.
Two-way communication was also important to mentors, as they expressed an appreciation for being updated or included in communication between instructors and students. This likely allows mentors to better monitor student progress and employ more personalized student support strategies. Lynch (2019) and Borup (2018) emphasize the importance of communication between all parties that are invested in supporting the student.
Final Thoughts
Students' experiences in their online courses can be supported by mentors who build relationships with them, monitor their progress, and motivate them (Cuccolo & DeBruler, 2023). Mentors often support multiple students, and the number of students assigned to them may vary depending on the building or district in which they are employed. Mentors working in school buildings located in towns had the highest student loads on average, and those working in city buildings had considerably less than all other locales.
To ensure that mentors can navigate their roles effectively, school officials should pay attention to each mentor's respective workload. Relatedly, mentors should be provided with relevant and personalized professional development so that they can continue to grow their skills and keep up with best practices in online learning.
Finally, because mentors and instructors are part of a team that aims to champion student success, increasing the efficiency of their communication is vital, as is outlining clear expectations and procedures. Efficient communication can help ensure that students get the information and resources they need to be successful.