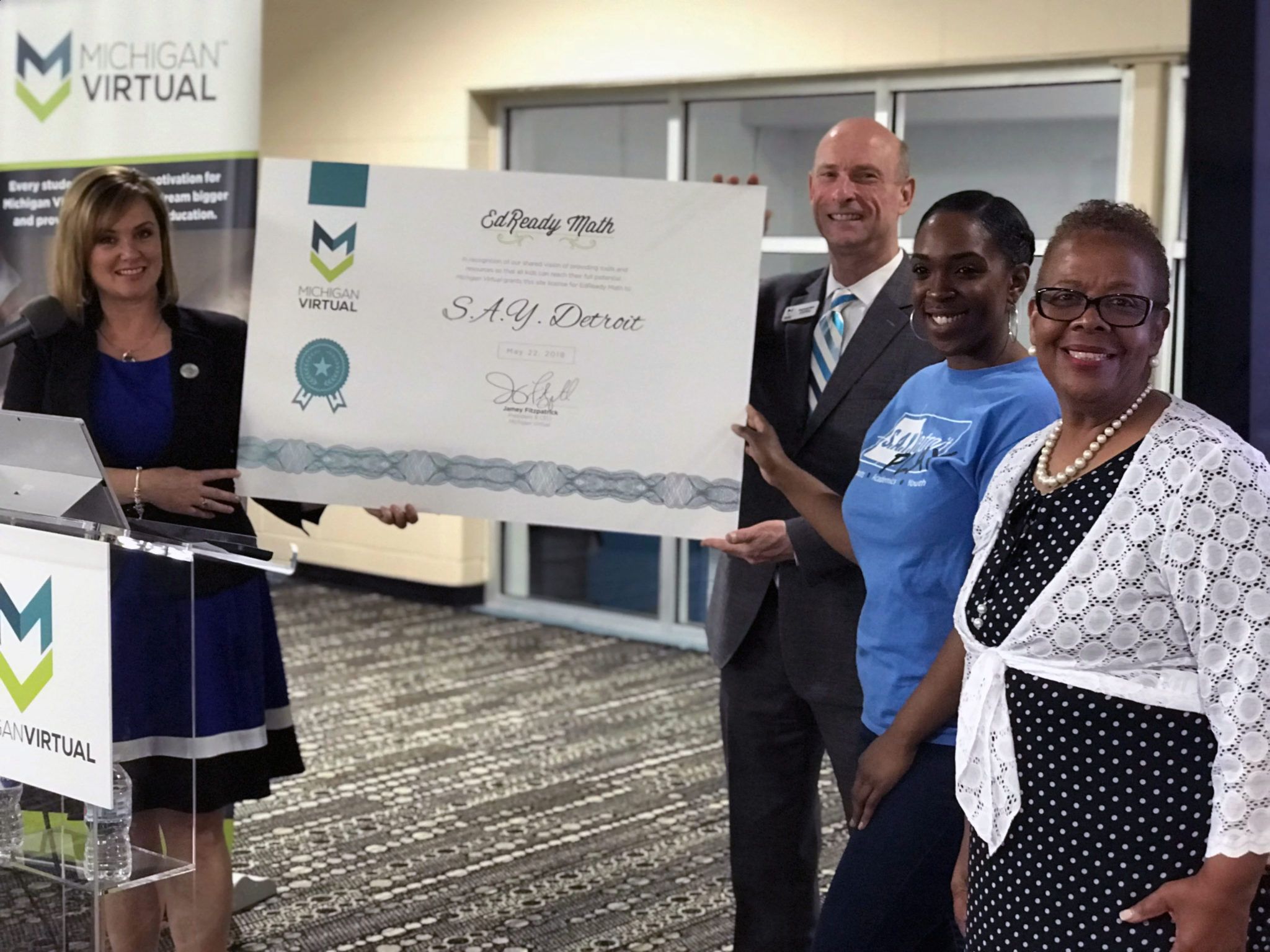 LANSING, MI — Michigan Virtual™ has partnered with the team from the Mitch Albom show to provide free early literacy and math readiness programs for students in Detroit on Tuesday at the S.A.Y. Detroit Play Recreation Center. Michigan Virtual provided literacy essentials materials and training to mentors and EdReady licenses that will provide students access to EdReady, a math support program. These materials and demonstrations aim to give tutors and mentors at the center tools to position Detroit students for academic success.
According to 2015 M-STEP data, only 50 percent of Michigan's third-graders are proficient readers. Students who fall below literacy standards in third grade are more likely to continue to struggle throughout the rest of their educational career.
"The literacy rates in Michigan are alarming, and our team at Michigan Virtual is proud to partner with Mitch Albom to address this important issue," said Michigan Virtual President and CEO Jamey Fitzpatrick. "The early literacy and math readiness programs are an important way to work in tandem with educators, mentors and students for greater success in the classroom."
Michigan Virtual's EdReady math program aims to help students in 4th through 12th grades master a range of mathematical concepts. The program assesses students' math skills, identifies their strengths and weaknesses and provides them with personalized instruction to fit their needs.
"When it comes to literacy and reading, this problem belongs to all of us," said Mitch Albom, founder, S.A.Y. Detroit. "I have crossed paths with too many people who have struggled with reading, a skill that so many of us take for granted. Providing students access to these courses and support from their tutors and mentors will help get these kids off on the right foot with these critical skills."
The Literacy Essentials training modules for teachers and mentors is currently targeted at students in pre-kindergarten through fifth grade. Training modules for upper grades are being created and will be available in the near future.
Michigan Virtual was founded as a nonprofit in 1998 with the support of many education and policy leaders and has since become a leader in providing online courses to students and professional development to educators throughout Michigan.