Like anything new and growing at a fast pace, esports can be a confusing topic. Today, we will explore the benefits of encouraging esports in schools using global examples and my personal experience with Rocket League esports.
What is esports?
Do you remember a time when you couldn't explain something to the generation before you that you saw as an everyday part of your life?
If you watched television as a kid, you probably grew frustrated helping your grandparents figure out how their remote works every time you visited.
As technology grows continuously faster, this generational gap grows wider. Many students participate in video games at such a high level that their cognitive abilities are more capable than our current comprehension.
This confusion caused by rapid changes in technology is best exemplified by esports. After all, esports captures many genres of games.
Don't be discouraged if you haven't heard of them all or know the specifics of the game. After all, that's like knowing every traditional sport and board game you have ever seen.
So when someone tells you what their favorite game is and you are not familiar with it, it is not a reason to feel left behind but an opportunity to explore a new world!
Esports crosses barriers
In order to explain the benefits of esports without overwhelming you with the limitless possibilities, let's look at real-life examples through my favorite game: Rocket League.
Rocket League is like virtual soccer, and the objective is still to score in your opponents' goal. But in this game, you are not a person. You are a car.
Rocket League was first launched in 2015 and has held a multitude of global competitions. Over the short time of seven years, this game has captured the attention of many students and has encouraged them to work together and compete against each other regardless of their location.
This game's version of the Super Bowl is the Rocket League Championship Series (RLCS). One of the significant advantages of esports is its inclusivity. If you have a reliable internet connection and a computer or console, you can play.
The RLCS initially only included teams from four regions. One of the regions left out was the Middle East. That's until SandRock Gaming emerged. The team's roster recently signed with Falcons Esports and just won 2nd place in the RLCS Spring Majors.
Discover how they made Rocket League a truly global game in this outstanding mini-documentary.
Any parent, student, and school faculty member can begin to play this game on a computer at no extra cost. This low barrier to entry makes esports more accessible to a larger student population than more traditional clubs and sports. In fact, 47% of students in an esports club have never participated in any other extracurricular activity!
This is one of many games that cost little to operate and help connect students locally, internationally, and even globally. I have played against people from Europe, South America, and the Middle East—something that never would have been possible while I was in high school.
It is important to note that not all video games in esports have to be hyper-competitive to benefit students. When I was younger, my parents only allowed a half-hour to play video games every night.
Since then, research has shown that students engaging with video games also improve their literacy reading levels and increase the amount of time spent reading as well!
Esports scholarships and careers
The more esports continues to grow, the more opportunities students are receiving from participating. About $16 million in esports scholarships have been awarded so far and are increasing every year. (My friend's 14-year-old brother plays Rocket League and colleges have already sent him letters of interest!)
Many colleges are building esports spaces on campus to encourage participation. For example, Michigan State University offers diverse esports opportunities, including broadcasting experience, daily events, and a community on Discord.
Beyond high school and college, esports is projected to continue expanding. What does this mean? More job opportunities.
Beyond pro-level players, esports hires in nearly every field you can imagine. Layla Kayyod, Instructional Designer for the Michigan Virtual Introduction to Esports course, says: "There are so many different career pathways that learners can take in the growing esports sector of the video gaming industry."
Companies like Twitch, Google, and even BBC are hiring marketing managers, engineers, artists, administrative assistants, animators, software developers, financial analysts, event management, and on and on.
Esports in school
Esports is growing at a much faster rate than traditional sports. According to the National Education Association, "Since 2018, when the National Federation of State High School Associations (NFHS) first recognized esports as an official sport, more than 8,600 high schools have started video-gaming teams."
Some of the most popular games played at the high school level include Rocket League, Minecraft, League of Legends, Overwatch, Super Smash Brothers, and Fortnite. The opportunities for inclusion and participation in the world of esports is unmatched by any other extracurricular options for students.
More video games will be created every year that students will choose to participate in. So, what can we do to put these students in the best position to succeed?
Give students the opportunity to play and learn more at school!
Remember that it is okay to not know everything about esports. Most clubs are created and coached by either staff or parents who know little about the games their students want to play.
Recently, Steve Forsberg from Ludington High School explained what it's like to become an esports coach and offers a few tips to get started.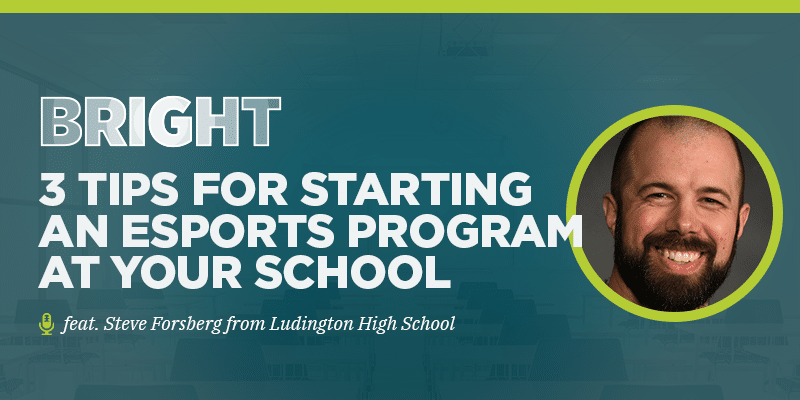 For middle school students who are eager to participate but do not have access to esports clubs or are not yet old enough, we are offering an Introduction to Esports course this summer.
Learn more today
In addition to covering topics like communication and health and wellness, Introduction to Esports will also have six live guest speakers who work in the world of esports to share their stories and answer any questions.
Whether it is increasing the reading capacity or extracurricular activities for students, the scalable opportunities that esports provide make it an exciting opportunity all school districts must consider moving forward.