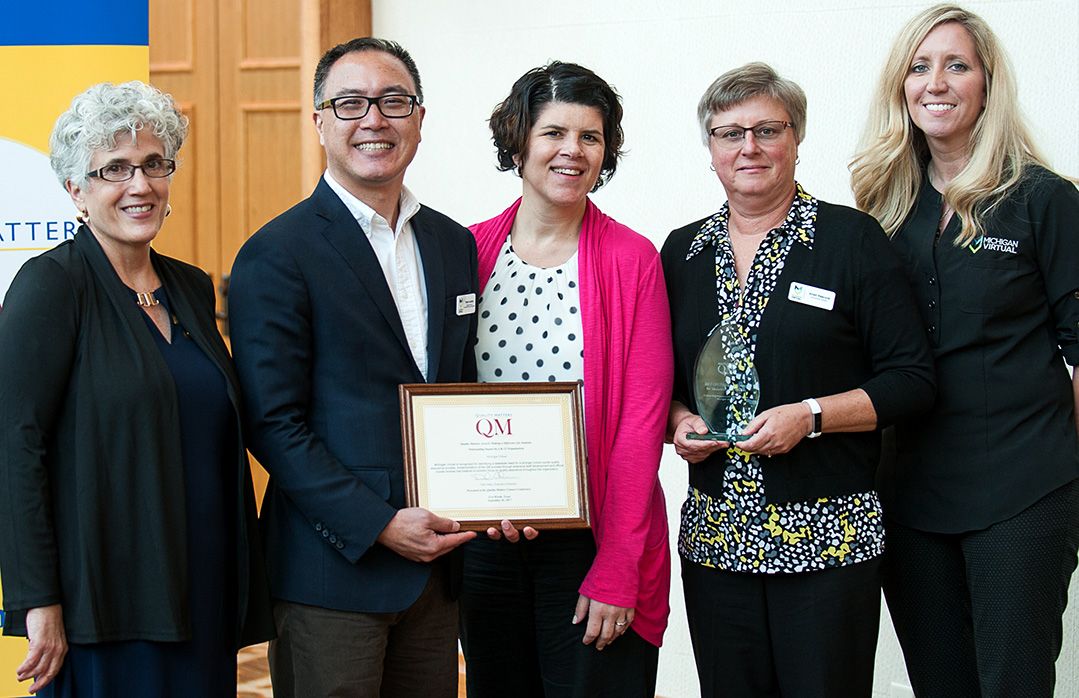 LANSING, MI — Michigan Virtual™ is excited to announce that it received a 2017 Quality Matters Making a Difference for Students Award for Outstanding Impact by a K-12 Organization at the QM annual conference "Connect Conference — Pathways to Excellence" in Fort Worth, Texas, yesterday.
Michigan Virtual, formally Michigan Virtual University®, was recognized for "identifying a statewide need for a stronger online course quality assurance process. Implementation of the QM process through extensive staff development and official course reviews has fostered a common focus on quality assurance throughout the organization."
"It is nice to be formally recognized by a national organization focused on quality for our efforts to improve online learning for Michigan schools and students," said Jamey Fitzpatrick, Michigan Virtual President & CEO. "In addition to taking steps to advance our own course development process, we have leveraged our partnership with Quality Matters to help local and intermediate districts use national standards as they expand efforts to design and develop online course content."
During the conference, individuals and groups are recognized for their successful implementation of QM standards, practices and processes that impact student achievement. Michigan Virtual entered the QM review process in 2015 to gain additional feedback about the strengths and weaknesses of Michigan Virtual's course designs and receive feedback that could help improve both
the design of individual courses as well as overall design methodology.
Michigan Virtual's course development team had a greater ability to produce and discuss course quality in a consistent manner, thanks to the QM K-12 Secondary Rubric and the review process. After seeing the positive impact, Michigan Virtual had 100 percent of its full-time instructors complete both the K-12 Applying the QM Secondary Rubric and the K-12 Online Course Design courses.
In addition, Michigan Virtual has made a commitment to support all Michigan intermediate school districts by entering into a consortium agreement with QM that allows intermediate school districts to become affiliate subscribers to QM services.
Since Michigan Virtual's full-time teaching staff has completed QM professional development, Michigan Virtual's student success rate has increased from 83.3 percent in 2014-2015 to 84.9 percent in 2015-2016.
"Quality Matters has provided our instructional design staff and our teaching staff a solid basis from which to create sound and effective online learning experiences for our students," said Peter Arashiro, executive director of Instructional Product Development at Michigan Virtual. "Through our engagement with Quality Matters, we are able to use our shared understanding of what a quality online course looks like to implement and improve our courses."
During the conference, educators explore quality assurance in online learning at all levels of an organization, with a focus on recharging organizational efforts to build a culture of continuous improvement.
The QM Connect Conference is a three-day conference featuring more than 100 workshops and sessions illuminating pathways to excellence for educators and learners. Meeting keynotes examining trends and issues affecting the quality of education today and tomorrow provide context for the robust engagement of hundreds of education professionals. For more information, visit qualitymatters.org.