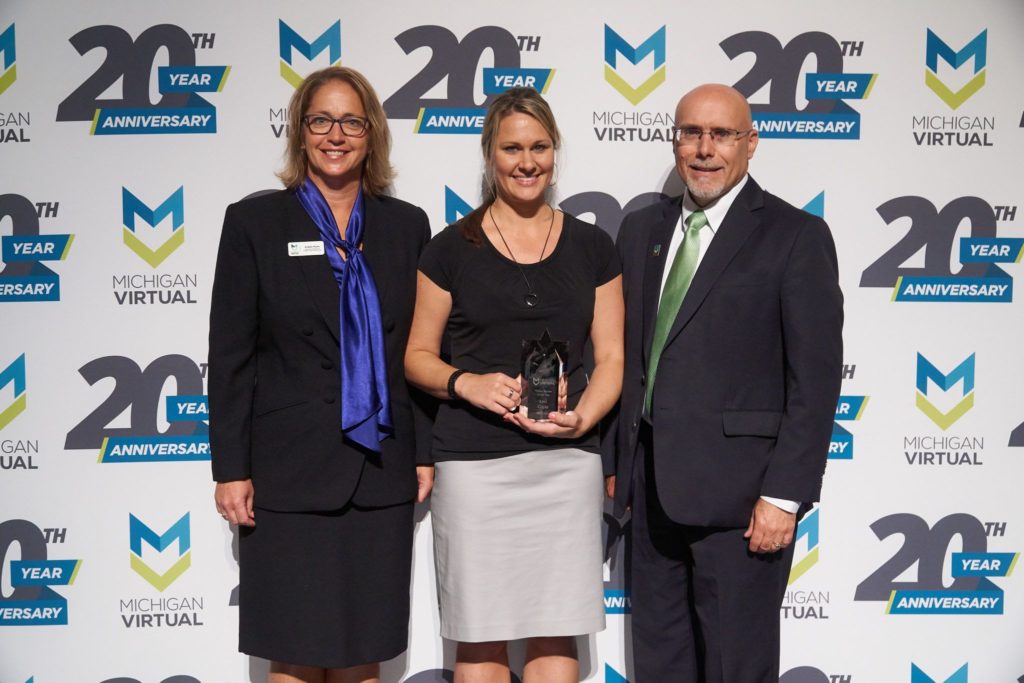 Lansing, Mich. — Michigan Virtual has named Lori Coyle as the 2018 Online Teacher of the Year on Thursday, Aug. 2. Coyle has taught social studies for more than 10 years and has utilized online tools to connect with her students. These tools include texting, Skyping or using Google Hangouts to facilitate conversations about subject-matter and create an online community.
The 2018 Michigan Virtual Teacher of the Year Award is a special, annual recognition that honors an educator in the digital space for going above and beyond to help students succeed.
"Now, more than ever, online learning is providing students across our state with opportunities that we never could have imagined 20 years ago," said Gov. Rick Snyder. "Extraordinary teachers like Lori Coyle serve a critical role in offering students flexible, personalized, and self-paced learning experiences that meet their unique needs."
In 2006, Michigan was the first state to require students to have an online learning experience to graduate from high school. Schools can meet this requirement in different ways, but 570 Michigan public school districts reported at least one virtual enrollment last year.
"As an online instructor, teachers take on a unique set of challenges. Being separated from students by time and space, Lori Coyle has gone above and beyond to help each one of them achieve academic success," said Sheila A. Alles, interim state superintendent. "Coyle has facilitated engaging discussions, built relationships with and among remote learners, and fostered growth in every student who has had the privilege of taking her course."
Michigan Virtual is the top provider and thought leader for online and blended student learning and professional development offerings throughout Michigan. Michigan Virtual's student pass rate is more than 25 percentage points higher than the statewide average for other online courses.
"As a 21st century educator, Ms. Coyle represents everything our educational system needs in today's complex world," said Jamey Fitzpatrick, president and CEO of Michigan Virtual. "Lori is a caring teacher with exceptional technology skills, plus she has a strong passion to personalize the learning experience for students."